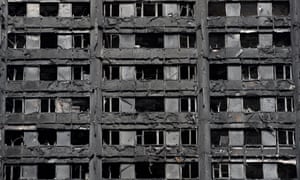 Experts warned government against cladding material used on Grenfell | UK news | The Guardian
"Construction and fire experts increasingly fear that the cladding system applied to Grenfell Tower may have been instrumental in spreading the fire. The system was installed to improve the thermal efficiency of the building and improve its appearance.
Investigations are also focused on gas pipes in the stairways and lobbies recently installed by National Grid, which residents had complained had not been boxed in with fire retardant material despite assurances they would be….
There is also uncertainty over how the project's adherence with building regulations was scrutinised. The Royal Borough of Kensington and Chelsea, where Grenfell Tower is situated, said a "full plans decision notice was not required in this case" and that "a completion certificate was issued" instead."